sobeit
04-17-2012, 09:06 PM
Here are the photo steps to my simple orange nail art.
Sorry that some of the photo color is off or even a bit blurry. It looked good in the camera screen but once uploaded it was flawed. Nothing I can do now but share it.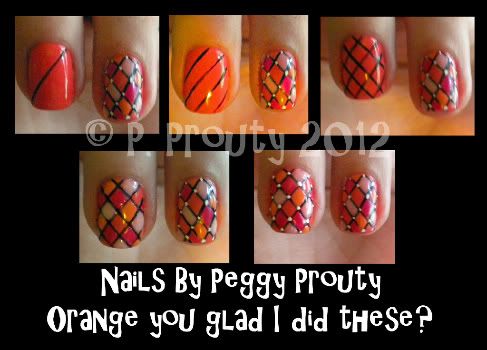 1. I used OPI Hot and Spicy on the entire nail.
2. Then with a striping brush (I used Mia secret dual paint pen) (nubar has one just like it) I striped my nail diagonally several times each way with black to create the diamond shapes. Start at the center of the nail and work on each side for an even look. Do them as close or far apart as you want the shapes to be.
3. Then I took 3 colors to compliment the orange. China glaze "inner beauty" for a cream color, Zoya "Michelle" ( hot pink) and "Sally girl" light orange. I applied a dot of these at random. They just flow into the lines on their own if you carefully dab a small amount into the section you are working on.
4. I used my white Mia secret pen and placed a dot at each diamond meeting point.
5. topcoat, I used NSI Airsheild