I think over time a few people have asked me how i do my glitter tips. This is from a fill i did and it was a repair to one broken nail. We just did a clear fill on the rest cause she wanted to keep the color one more fill. I use all Light Elegance and then some random glitters including theirs. You can do this with any gel line.
This is is a really basic tutorial of a two color gel glitter fade.
First I Prep the nail if doing fill, or prep nail and apply clear tip.
Bonder, cure.
One thin coat of Light Elegance Extreme, cure.
I mix my glitter with LE One Step because it is the thinnest clear. I mix until I feel I will get good coverage but not be so chunky it wont go on smooth.
ONE, apply first color (pink) being careful to shape the smile line and bring it back towards the tip. This does not have to be perfect. i use the LE smile line brush, its tiny and angled so it is perfect to get in the corners. DO NOT CURE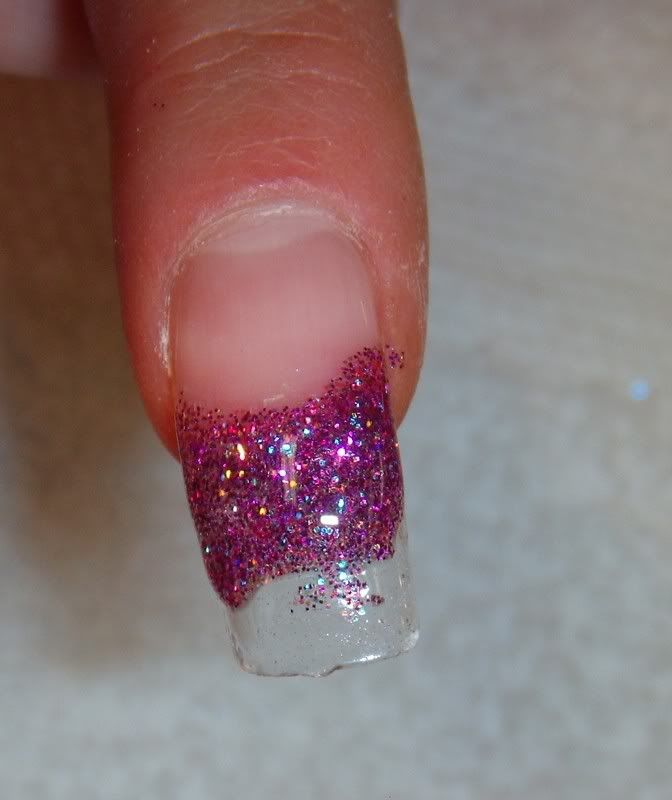 TWO, apply second color (crystal) to the tip and butt it up to the pink, again this does not have to be a perfect line between the two colors. DO NOT CURE
THREE, with the tip of the brush, lightly drag the pink towards the tip and the crystal into the pink. DO NOT CURE
FOUR, add any accent glitters, in this case LE "spears" on the tip and some little kind of round ones over the pink. This just gives more bling and sparkle
now Clean up smile line with brush lightly any stray glitter back to where it needs to be. Dont mind the few stray pieces I didnt get. I was in a hurry.
CURE (finally)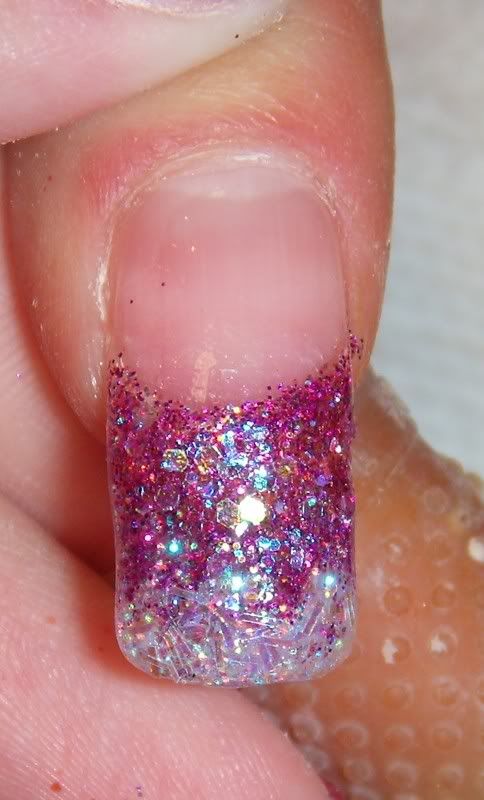 Last cap the whole nail with clear building proper arch etc...
Cure, cleanse sticky and finsh file being careful not to go too far into the gel and removing the glitter.
Apply Super Shiney (finisher gel), cure, cleanse, apply oil.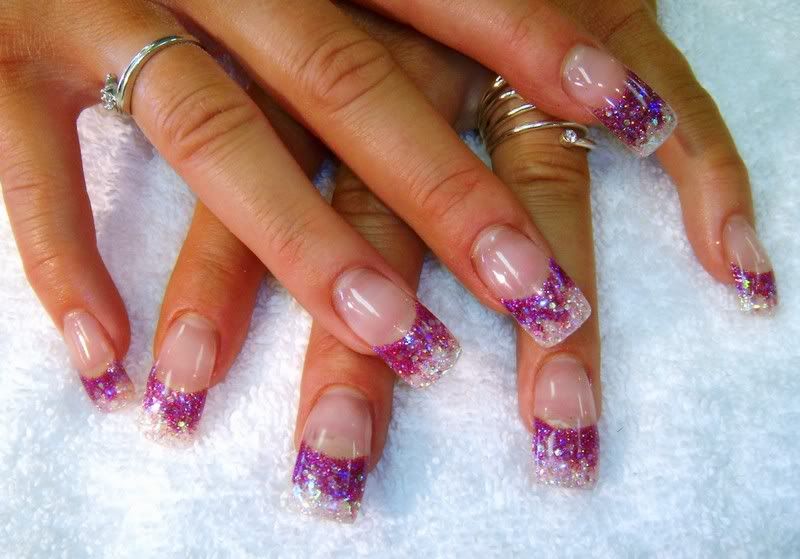 Hope this all makes sense.