Akzentz Luxio will be shipping to me this month! I'm going to try to get it early for a launch and PREVIEW party, so stay tuned. But here is your VERY FIRST look at the new line and colors. It goes on incredibly easy and really does soak off fantastically in 10 minutes. Its completely solvent free 100% gel - which means no drying out, white spots, no oil needed and not the brittle chipping on the ends. None of my testers have had stress area cracks either, which was surprising to me! Its fantastic and the gloss is unreal. So incredibly shiny I have been using up every sample bottle I've gotten! I LOVE it (and its a cheaper price point than the regular UV line!)
So here are the colors in the first collection... drum roll please!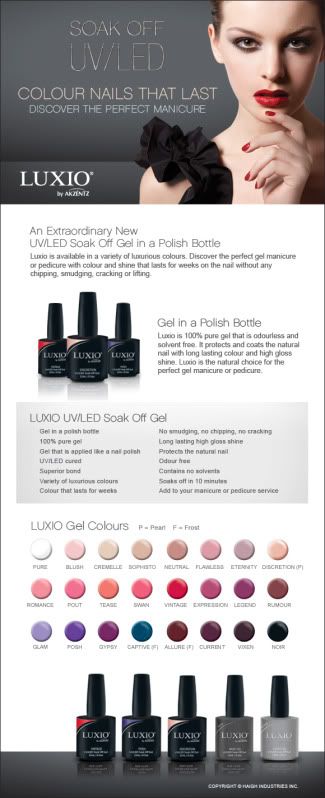 If you would like the full size picture emailed to you let me know.